Water Heater
(P/N: 111739B, NSN: 4520-01-493-7423)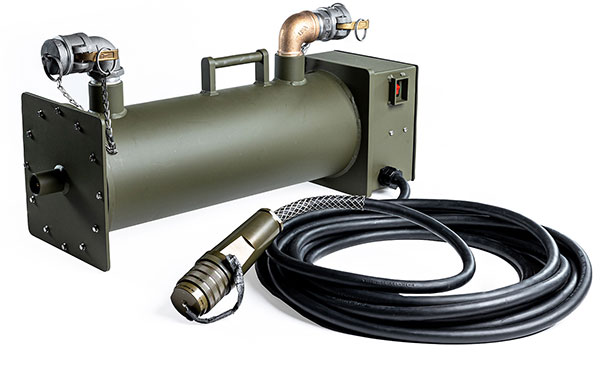 Freezing water is a risk in extreme cold conditions for many military field hospitals. FDI's Water Heater mitigates this problem in water distribution systems.
Water from the main supply is circulated through the heater and across multiple heating elements. FDI's dependable design uses thermostat-controlled heating elements and a safety pressure valve to ensure many years of safe operation.
To see how FDI's Water Heater can be used in conjunction with larger water systems, please click the link for more information on our Potable Water & Wastewater Management System for field use.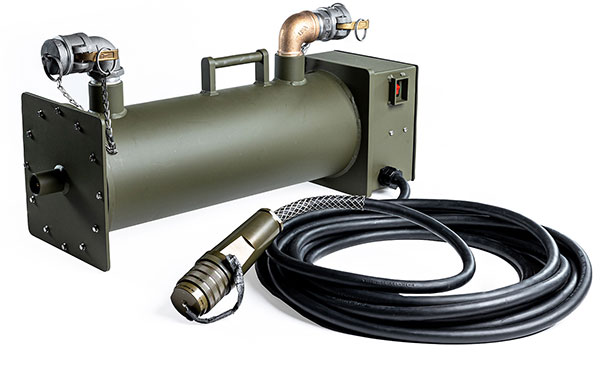 Easy to install, maintain, and use

Prevents circulating water supplies from freezing in cold environments

Uses 1.5-inch Cam-and-Groove hose fittings for fast and secure connections

Uses internal controls that prevent overheating or overpressurization

Uses local on/off switch for safe connection and operation
Includes Mil-Spec Class L connecting plug

Made of light-weight, all-welded aluminum alloy powder-coated frame

Incorporates a pressure safety valve in case of overpressure

Works in line with the FDI Water Distribution System
Let us help you
with any questions about our Products and Services